All of our stylish pagoda marquees are standardised with 3m high wall heights and 6m wall lengths. This gives total flexibility in connecting marquees, and the ability to create a range of formats and shapes. It allows us to fit into small and irregular places, or build irregular and exciting spaces.
Sizes available to join together or use on their own:
3m x 6m Pagoda
6m x 6m Pagoda
6m x 12m Pagoda
11m x 12m Hexagonal Pagoda
6m Triangle
6m Diamond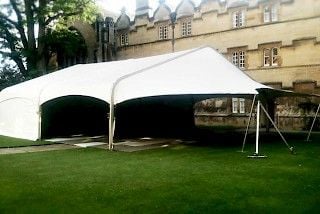 The T Span marquee is in a more traditional marquee shape, but has been designed with clean lines and a well engineered frame. There are no central poles or low beams and the roof canopy is "blackout" white material, which allows both shade and shelter all year round. Verandas can be added at each end to create a dramatic entrance or greeting space.
The T Span is available in a 12m width and each bay is 6m deep.
Sizes available:
6m x 12m
12m x 12m
18m x 12m
Verandas can be added to either or both ends.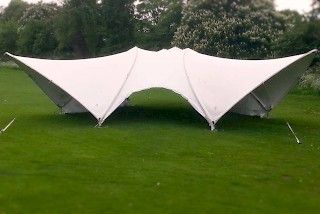 The Saddle Shell marquee can be used on its own or joined to its twins to form a Bi-Shell or Tri-Shell structure. A Tri-Shell can provide an exciting space for 60 people seated with a central dance floor.
One Saddle Shell marquee covers an area 6m x 9m and can be open at one end, both ends or totally enclosed.
The Tri-Shell covers an area of 21m diameter and can also be open all round or enclosed.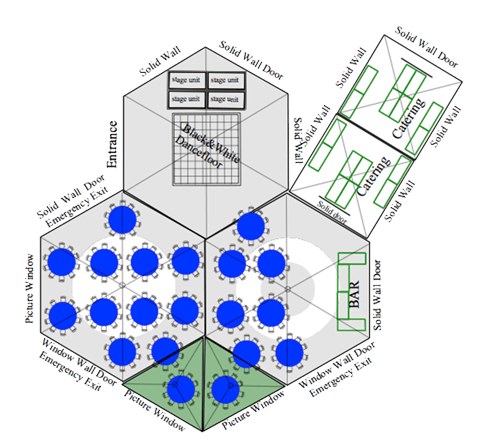 Our different shaped marquees can be joined together to make a unique area, tailored to your needs and the space available.